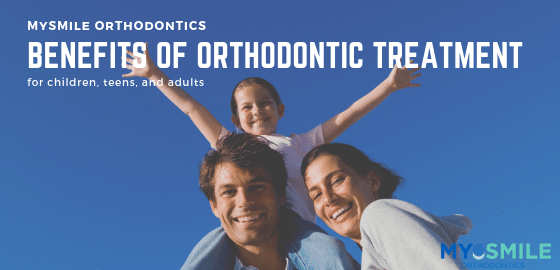 Benefits of Orthodontic Treatment
How often do you notice someone's smile? When you stop and think about it, it's probably more than you consciously realize. A bright, beautiful smile isn't just a symbol of someone who is warm, welcoming, and confident, but it also is a sign of someone who is healthy. In addition to emotional well-being, one of the biggest benefits of orthodontic treatment is that it promotes good physical health. Let's take a closer look at some of the amazing benefits of orthodontic treatment.
Orthodontic Treatment for Children and Adults
Years ago, orthodontic care was commonly linked to pediatric patients. The image you thought of when someone mentioned orthodontics was likely a middle-school to a high-school aged kid wearing braces through those awkward years.
Thanks to the evolution of the orthodontic industry, this image is certainly one of the past. Today, it's not just children that take advantage of the benefits of orthodontic treatment. Adults also understand the amazing ways orthodontics can change their lives.
Orthodontics for Children
Children begin their orthodontic treatment at a younger age these days because research shows that early intervention helps a lot. The American Association of Orthodontists recommends that children see an orthodontist by the time they turn 7. While that might seem young, there are major benefits of orthodontic treatment at an early age.
As the first permanent molars and incisors erupt around the age of 7, orthodontists can determine whether treatment may or may not be required down the road. Additionally, early treatment can help guide the growth of the jaw and move incoming teeth into their ideal position. Therefore, early intervention can simplify the orthodontic treatment process, guide proper jaw alignment, and save patients time and money in the long-run.
Benefits of Orthodontic Treatment for Adults
It's not just kids who take advantage of orthodontic treatment today. In the past several years, studies show that orthodontic treatment in adults is also beneficial. In fact, one of every five patients undergoing orthodontic treatment is over 21-years-old.
Adults understand the benefits of a beautiful smile when it comes to self-esteem. Many adults are now understanding the benefits of orthodontics when it comes to your oral and physical health. A bad bite or crooked teeth affects more than just your appearance. It can be back for your health because crooked teeth can lead to plaque buildup, tooth decay, and gum disease.
With all the advancements in orthodontics, older teens and adults are also taking advantage of the benefits of orthodontic treatment. With the addition of Invisalign and Invisalign Teen, adult orthodontics is extremely popular. You can straighten your teeth faster and less noticeable than ever before.
The Benefits of Orthodontic Treatment
Aside from giving you better self-esteem and confidence, there are other benefits of orthodontic treatment. When your teeth are crooked or crowded, your mouth is at risk for several oral hygiene-related problems. Crowded teeth can lead to tooth decay and tooth loss if it gets worse. Other orthodontic issues can lead to abnormal wearing of the teeth, improper chewing, misaligned jaw joints, and additional stress on your gums, bones, and other parts of your mouth that support your teeth.
When these issues don't get treated, you don't just put yourself at risk for oral health problems. You can also end up with pounding headaches, facial pain, and even back pain. The cost of orthodontic treatment will be far less in the long term if you end up with these issues. When it comes to orthodontic treatment, there are several ways an orthodontist can help straighten your teeth to improve your smile and your overall health.
The orthodontic treatment course you will undergo varies from patient to patient. Your orthodontist will meet with you to evaluate your smile, discuss your goals, and create a plan that works to help the specific issues you face when it comes to your smile. However old you are, the benefits of orthodontic treatment are countless.
For more information on orthodontic treatment options, schedule your consultation by filling out our contact form or giving us a call at 203-538-5014.