Maria Pouliezos-Karayiannis, DMD-The Most Caring Orthodontist CT
I love working with children; it is the main reason I became an orthodontist! My goal when I entered my career was to become the leading caring orthodontist CT. My own treatment as a child had such a positive impact on me. It gave me the confidence to smile uninhibitedly, and I have always believed that there is nothing more beautiful than a child's smile.
Orthodontics is not an easy undertaking, and it is my job to be as helpful, patient, and understanding as possible in order to help my patients achieve the results they have always wanted. This carries through to patients of all ages! It is very rewarding to watch my younger patients grow during their treatment and become more responsible and self-aware of their health. Adult treatment carries similar advantages. Watching them gain the confidence and determination to finally take charge of their smile and oral health is wonderful!
The most exciting and rewarding part of being a caring orthodontist CT has and always will be the end result. It is truly a blessing to witness such a change in a person's life.
Education and Continuing Education
McGill University – Bachelor of Science in Physiology, 1998
McGill University – Doctorate of Dental Medicine, 2002
Stony Brook University – Advanced Education in General Dentistry/Certificate in Orthodontics, 2003
The technological advances made in dentistry not only allow me to optimize treatment results, but they have also made the treatment itself easier on the patient. As new advances continue to evolve, more comfortable treatment allows me to meet my goal to be a caring orthodontist CT. Digital radiography, intraoral scanners, and amazing software programs allow us to do things we have never been able to do before! These advances involve the ease and acceleration of treatment, making it more aesthetic, comfortable, and rewarding. I dedicate many hours to continuing education on new technology, whether through conferences are given by associations or courses offered by private companies.
Professional Affiliations
American Association of Orthodontists
American Dental Association
New England Society of Orthodontists
Bridgeport Dental Society
Outside the Office
I was born and raised in Montreal, Canada. I speak French, English, and Greek, as both my parents are Greek immigrants. My husband, Peter, is from Stamford, Connecticut. We always knew we wanted to come back here following our studies. We decided to move to Trumbull for the good schools and a great community. All in all, it's a great town surrounded by more great towns! We have been very happy making our life here.
Peter and I have four children, George, Kyra, Alexander and Johnny. Ice skating, and taking the kids to the parks and attractions our beautiful community has to offer, are our favorite ways to spend free time.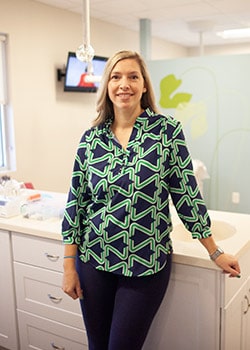 More Topics: