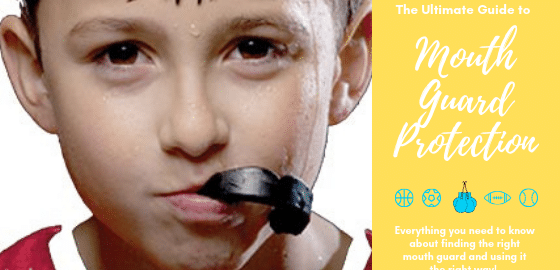 The Ultimate Guide to Mouthguard Protection
Mouthguard protection is important for several reasons, especially for individuals who participate in contact sports. Your smile is an important part of who you are. Imagine how you would feel if you lost or permanently damaged some of your teeth? Since everything from smiling to talking and even eating can be affected when you lose or damage your teeth, it's important to protect them.
As awareness has increased surrounding the importance of mouthguard protection, some sports organizations now required players to wear mouthguards if they want to play. Athletes that don't wear mouthguards are 2 times more likely to sustain an oral or dental injury. Let's take a closer look at the importance of mouthguard protection, where to get a mouthguard, and how to be sure you have the best fit for your smile.
The Importance of Mouthguard Protection
From toddlers to grown adults, mouthguards are used by a variety of people. But those involved in contact sports should be even more diligent about protecting their teeth. The National Federation of State High School Associations requires high school sports players to wear a mouthguard for the following sports:
Football
Ice Hockey
Wrestling
Field Hockey
Lacrosse
While these are the only sports that require mouthguard protection at a high school level, it's recommended for most youth sports, including basketball, baseball, and volleyball. When it comes to protecting your mouth, you should always air on the side of caution. While collision and contact sports leave athletes at higher risk for injury, any athlete can experience a dental injury.
Mouthguard protection is important for protecting your teeth, and it's even more important for patients using orthodontic appliances. People who wear braces can experience costly damage if they take an unexpected blow to the mouth. Injuries to your mouth and teeth don't just cause unnecessary pain and suffering, they could cost up to $15,000 for treatment and repair.
When choosing a mouthguard, you should keep the following in mind:
Think about how often you will use it and how hard of an impact is possible with your activity. Pick a mouthguard that is able to suit your needs.
Make sure your mouthguard protection fits comfortably.
Consider the sport you play and a sport-specific option.
Do you have braces or wear an orthodontic appliance? Talk to your orthodontist to find the best option.
Custom mouthguards offer the best protection. Consider investing.
You should also invest in a case to protect your mouthguard from germs and lower the risk of misplacing it.
Different Types of Mouthguards
When it comes to choosing a mouthguard, patients have a lot of options. It's important to understand what's out there so you can make sure you pick the right fit for your mouth. Mouthguard protection can be purchased at most sports stores or online. They come in two different varieties of fit: boil and bite or instant fit.
Boil and Bite Mouthguards
Boil and bite mouthguards are molded to your teeth. Once you purchase this type of mouthguard protection, you'll soften the liner by submerging it in hot water. Once it is soft, users bite into the mold and conform the liner to the shape of their teeth. This option will give you a close fit that won't easily fall out, providing great protection for users.
Instant Fit Mouthguards
Instant fit options don't require any work. They are simply taken out of the package and used after they are sterilized. They are easy to remove but don't provide as much protection as the boil and bite option.
In addition to the two varieties of mouthguards, you can find in stores and online, there are several other options players can find.
Sport Specific Mouthguards
Mouthguard protection is recommended for any sports activity, non-contact sports too. The most common sports specific mouthguards are:
Football Mouthguards
Since football is a high impact sport, you will definitely want to protect your teeth from the potential damage of a hard hit. As mentioned earlier, some leagues and organizations actually require mouthguard protection. Most football players choose a mouthguard with an integrated lip guard. This will help protect your lips and they tend to come in cool prints to help you show off your style.
Basketball Mouthguards
While basketball isn't as much of a contact sport, there is still a change you can sustain an injury to your mouth playing. Basketball players are required to communicate a lot and act quickly, so most players choose a mouthguard that is breathable and makes it easy to speak. Choose an option that has a slim design and integrated breathing channel. These are more lightweight and comfortable.
Hockey Mouthguards
Hockey is a serious contact sport. You're going to definitely want to protect your mouth if you play. Since you may not be required to wear a full face mask as the football players do, you want to pay particular attention to your mouthguard protection. Use a strong, exoskeletal framed mouthguard to absorb the impact of hard hits.
Boxing, Wrestling, and MMA Mouthguards
It's no secret that you may sustain a blow to the mouth if you participate in any of these sports. That's why you need to use a mouthguard that is designed for high impact. Choose an option that has a strong frame and protects the upper and lower jaw since hits to the face are more common.
Custom Mouthguard Protection
While it's easy to find a variety of options on the market, the best protection you can get comes through a custom mouthguard. Orthodontic patients should specifically consider this option. They are molded to your teeth and designed to offer the exact protection you require for your activity. An orthodontist or certified dentist will create a mold of your teeth. They will help you decide which style suits your needs. There are several options, such as All-Sport and High-Impact, to provide you the level of protection you need.
Once your dentist or orthodontist has molded your teeth, the impression will be sent to a lab where a custom mouthguard is crafted to fit your mouth exactly. Once you receive the custom mouthguard, you'll meet with your dentist or orthodontist to be sure it fits nice and snug. While the process does take longer than grabbing one at the store, the investment is well worth it in the end.
Caring for Your Mouthguard
Mouthguard protection comes as a small piece of equipment. That's why it's important to invest in a mouthguard case. It'll help you avoid losing it amongst other pieces of equipment in your crowded gear bag. It will also keep your mouthguard clean of dirt, grass, bacteria, and other germs it may come into contact with that you won't want to put in your mouth.
Talk to your orthodontist or dentist about when you should replace your mouthguard. Be sure to watch for signs of wear and tear, damage, or improper fitting. For growing children, it may be necessary to replace your mouthguard more often. Follow these basic care instructions to get the best results all the time for your mouthguard protection:
Keep your mouthguard clean and dry between games.
Rinse before and after each use with a toothbrush and toothpaste.
Clean regularly with cool, soapy water.
Bring your mouthguard to all dental or orthodontic appointments and have your provider check it.
Store and transport in a sturdy container.
Never leave in the sun or hot water.
With the right mouthguard protection, you can have the peace of mind that your teeth and mouth will be protected if you take a blow to the face. It won't just save you a headache, but it'll save you lots of money in dental work as well!
In honor of National Facial Protection Month, click here to find more information on how you can get a free custom-fit mouthguard through our office!