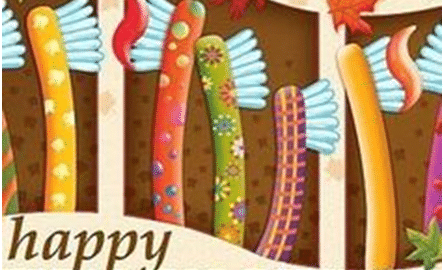 Thanksgiving Tips to Keep your Appliances in Tact
Don't let your braces keep you from enjoying all the comfort food your family plans on bringing to the table this Thanksgiving. Use these helpful tips to enjoy your holiday without having to rush to the orthodontist afterwards.
Slow down! As busy people, we often eat in a rush! This Thanksgiving, take time to slow down and chew your food carefully. Cut your food into smaller pieces and take eating slower seriously since it can lead to less likelihood of broken appliances.
Stick to soft food. You will have plenty of time to indulge in other foods when your braces are removed!
Avoid stringy foods which can get wound around brackets and stuck underneath palate expanders.
Stay away from sticky, sugary foods like pecan pie and caramel. These foods can break your braces and leave your teeth more prone to tooth decay.
Eliminate nuts and seeds which can get stuck in your braces. Stay away from hard foods like popcorn kernels which can break your brackets when you bite down.
Avoid food that can contain hidden chunks such as wraps. Bite carefully and eat with a fork and a knife.
Stick to foods that are cold. This can help ease any mouth pain associated with braces, especially if you have just had your appliances adjusted.
Each as much turkey or ham as you would like! Just avoid drumsticks unless you are choosing to cut the meat off ahead of time.
Corn is yummy! Just cut it off the cob!
If you accidentally break a wire or bracket, be sure to apply dental wax to keep your mouth from experiencing additional problems such as canker sores.
At My Smile CT, we wish all our patients and their families a very happy, healthy, and safe Thanksgiving holiday.