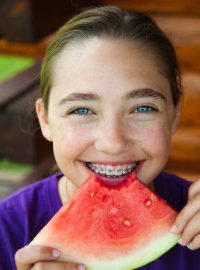 Easy to Eat Foods for Patients with Braces
It is no secret that getting new braces, or adjusting existing ones, can result in an irritating discomfort that may be difficult to tolerate. You will see a noticeable difference in your mouth as you get adjusted to your new braces. Finding the right foods to consume one way to reduce the discomfort associated with braces. Changing your eating habits will improve oral health and nutrition in addition to eliminating discomfort. Here is a list of things to keep in mind when getting used to your new orthodontic treatment and some easy to eat foods for braces:
Stick to soft-Soft foods like mashed potatoes, pudding, yogurt, and soups, to name a few, are a great option for patients getting used to the discomfort of their patients. Soft foods eliminate the need to chew, which can be difficult during this time.
Try a smoothie-Smoothies are a nutritional option to offer a convenient, balanced, and delicious meal option. Made the right way, smoothies are a delicious treat that can be customized to appeal to your taste buds. Plus, smoothies are generally cold and can help to alleviate pain.
Try different options- When it comes to proteins, there are loads of options available. While we often think of a delicious steak when it comes to protein, many protein options require are difficult to chew.
Try something new- While you are exploring your options, use this opportunity to try new foods. You might find something that appeals to your taste.
Focus on healthy- When it comes to food, many healthy options are available that can cater to your needs when dealing with discomfort related to your braces. Soft fruits like bananas are a great option. Also, healthy whole grains found in breads, soft cereals, and oatmeal are nourishing, healthy, and soft.
Get your dairy on- The dairy section has a lot of great options when it comes to soft foods. Cheeses, milkshakes, yogurts, and puddings are just some options that work.
While adjusting to braces can be an uncomfortable transition, finding ways to ease your discomfort can make the process of dealing with braces much easier. Talk to your orthodontist about other options when dealing with the discomfort of braces.