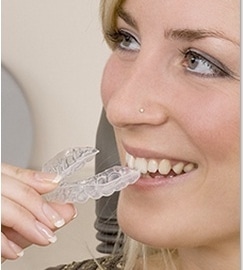 Are Braces Just for Kids?
While the average age to bring your child in for an orthodontic evaluation is seven years old, many orthodontists are seeing more and more adults seeking treatment to straighten their teeth. In fact, one in five orthodontic patients these days are over the age of twenty-one. Improving your look and loving your smile is a goal you can work to achieve at any age, but adults who seek out orthodontic treatment may also save themselves from possible complications in regards to their dental health.
Why Now?
As an adult, we generally have a better knowledge of the importance of maintaining our health. There are many reasons why adults choose to straighten their smile at an older age. Some adults find that they now have the financial means to finish the orthodontic treatment they started as a teen. As we get older, losing adult teeth can actually cause a shift in the rest of our teeth and make the need for orthodontic treatment more noticeable. Even more importantly, straighter teeth can make patients a less likely candidate for gum disease which is seen more prevalently during our adult years when gingivitis is common.
Common Need for Treatment as We Age
Besides wanting a healthier mouth and a more confident smile, the common need for orthodontic treatment in adults can be from years of frustration of dealing with pain and sensitivity. Patients commonly complain of problems with their bite, crowded teeth, and jaw pain. Over time, these problems can lead to more consistent, daily pain that becomes unbearable and just plain annoying. Crowded teeth also put patients at risk for more tooth decay and gum disease.
But They Aren't the Cutest Look!
One reason many adults shy away from getting braces in their older years is because the thought of going to their children's sports practices, heading into work, or going out for a night on the town with metal braces is just plain embarrassing! Luckily, orthodontists have spent a great deal of time over the years improving the look and effectiveness of braces. In fact, many patients of all ages do not use metal braces to correct their smile. Besides clear braces, ceramic braces, self-ligating braces, and behind the tooth braces, Invisalign (an invisible, removable mouthpiece to straighten your teeth) is a great way to get the look you want without having to find yourself in family photo albums for all of eternity with a metal smile. In fact, three million patients worldwide take advantage of Invisalign. And besides being a much more fashionable choice when looking to change your smile, Invisalign actually makes eating, drinking, brushing, and flossing easier on a daily basis. It is also a more comfortable way to straighten your teeth and requires less time in the doctor's office for adjustments when your time is limited by your busy lifestyle to begin with.
Have you always wanted a beautiful smile that makes your feel more confident, but timing just wasn't on your side? It is never too late to fulfill you dream. Contact us today and find out how your orthodontist can help you achieve your goals and make your smile a more permanent part of your wardrobe.